F.A.B. – French American Bistro. A balance of taste French flavours with American classics
Fancy reasonably priced French bistro style cuisine in Hong Kong? Then head over to Hollywood Road where you will find F.A.B., tucked conveniently under the escalator.
I stopped by here casually for lunch and ordered from the a la carte menu. Expect simple and casual dishes, breakfast and brunch classics, meats, and starters made to share.
The menu is divided into starter and salads, sharing, main, and a dessert section
Fancying something light to start and with a Peruvian bent, I opted for the sea bass ceviche ($108). The fish was spanking fresh, and the sea bass retained excellent flavor and texture, with hints of lemon, zest and juice.
SEA BASS CEVICHE from F.A.B. – French American Bistro | A refreshing start to whet the appetite.
Next up, I ordered the Cobb Salad ($128), seeing it was one of the Chef's recommendation. This was beautifully done and presented with a mixture of fresh salad leaves, eggs, avocado, lardoons, tomato, and turkey. A popular dish originating from America, the Cobb salad at FAB does not disappoint.
THE SIGNATURE COBB SALAD | Bursting with vibrant colors and consisting of some of my favorite ingredients
Trying to do away with the carbohydrates, I ordered the mussels and fries in a white wine garlic sauce ($168). The dish arrived steaming hot in a clay pot with plenty of garlic, parsley and white wine flavor.

To wrap up the meal, I ordered the fine apple tart ($78). For those with a sweet tooth, other dessert options include a vanilla crème brulee, cheesecake, lemon tart, and chocolate mousse option. The apple tart pastry was delicate and crisp while the ice-cream was of a high quality (can still see and taste the specks of the vanilla bean).
FINE APPLE TART from F.A.B. – French American Bistro | A buttery and flaky crust tart with thinly sliced apples.
As for the décor, the furniture is simple and complements the relaxed and casual ambiance the bistro is trying to achieve. There is also a bar for those who fancy the after work drinks.
Ideally located in central, FAB is a perfect chilled-out place for a casual lunch with colleagues and friends as much as an after-work beer.
F.A.B.
Address: No. 30, Shama Place, Hollywood Road, Central.
Opening hours: Mon-Fri 9am–2am. Sat-Sun 8am-2am.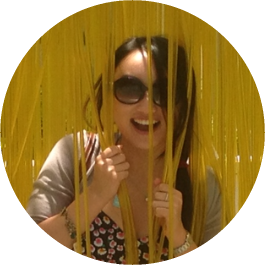 Michelle Tang |
Contributing Editor
Not your most conventional girl. A creative spirit with a zest for adventure, yoga, and food. With a degree in Finance and Law, Michelle was raised in Sydney. Passionate about cooking, writing, food styling and photography, Michelle writes a recipe blog and hosts supper clubs and cooking workshops for groups, private parties, and corporate. Visit Michelle's Facebook page here. Welcome Kitchenmess!