Previously located in Causeway Bay, Indonesian Restaurant 1968 serves authentic Indonesian food and has made its way into the Central district, located on the fifth floor of L Place. Upon entry, be prepared to be whisked away from the hustle and bustle of the business district. Instead, you will be warmly greeted by an interior that is dimly lit with wooden decor and rustic graffiti walls.
With beautiful rustic wooden furniture, the interior of 1968 aims to recreate a local dining experience in Indonesia.
The signature Iberico pork belly skewers are a 'must order' appetiser.
To start the meal, I ordered one of their signature appetisers: the Iberico pork belly satay skewer (since skewers are a popular Indonesian street food). Other options include chicken beef briskey, beef tendon, and pork. The texture of the pork belly was tender and succulent, each bite delivering a mouthful of juicy flavors. It paired beautifiully with the sweet chilli indonesian sauce.
SAYUR JERUK BALI SALAD | Veggie pomelo salad with lime vinaigrette. A light and refreshing palate cleanser packed with sweet, sour, and salty flavors.
As a healthy side dish and palate cleanser, I ordered the pomelo salad. It came with julienned carrots and was drizzled lightly with a light lime vinaegrette with sporadic bursts of hotness from the chile. A light and refreshing start for what was to come next.
IKAN TERBANG | the deep fried flying fish with chilli sauce is a signature main and arrived beautifully presented butterfly cut-style and fried crisp to perfection.
The grilled pomfret was the stand-out dish of the night, Beautifully presented in a butterfly cut, it temptingly offered half a side of the fish with boneless flesh. The skin of the fish is crisp while the sweet ginger and tomato sauce added a delightful touch to the dish.
Beef Rendang | This rich and creamy Indonesian/Malaysian beef stew was braised to tender perfection.
Another signature dish is the beef rendang. Rendang is a spicy meat dish which originated from the Minangkabau ethnic group of Indonesia, and is now commonly served across the country. Braised in coconut milk with a host of spices and aromatics, the rendang delivered on taste and the beef was very tender. I highly recommend it to be accompanied by a bowl of steaming white rice.
To load up on the carbohydrates, I ordered the pineapple fried rice as it reminded me of my mother's pineapple fried rice she would make back home in my younger days. Despite my personal bias, I genuinely believe my mother's dish is superior. There aren't enough pinapple chunks in the rice for my liking. The turmeric did, however, add a beautiful yellow gingerly hue to the entire dish. Next time I would opt to try the signature 1968 Laksa instead.
Fried banana with vanilla ice-cream – one of my favorite desserts in Thai/Indonesian restaurants.
To wrap up the meal, 1968 offers a handful of dessert selections. Like a giddy child, I ordered the deep fried banana with vanilla icecream. Arriving in a portion of four, the batter was not too thick and was a perfect way to end the meal on a sweet and lingering note.
All in all, if you want reasonably priced indonesian food in a comfortable surrounding, I would highly recommend 1968. If you are here for a date or a more intimate gathering, best to ask for the cushion-lined sofa by the windows which can accommodate for up to six people.
Indonesian Restaurant 1968
Address: 5/F The L Place, 139 Queens Road, Central.
Opening hours: Monday-Sunday 12pm-12am.
Order online here.
Check map below for direction:
---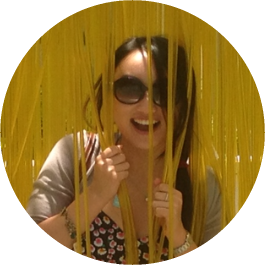 Michelle Tang |
Contributing Editor
Not your most conventional girl. A creative spirit with a zest for adventure, yoga, and food. With a degree in Finance and Law, Michelle was raised in Sydney. Passionate about cooking, writing, food styling and photography, Michelle writes a recipe blog and hosts supper clubs and cooking workshops for groups, private parties, and corporate.