For all you meat lovers out there, we have a new kid in the block: Atelier Vivanda. This is two-Michelin-starred chef Akrame Benallal latest venture and is suitably situated adjacent to his higher-end eponymous Restaurant Akrame.
A contemporary french bistro specialising in meat and potatoes. Yup, you can pretty much expect nothing more than simply meat and potatoes at this joint (with the exception of a few mouth-watering desserts).
Just to give you some background scope, Akrame Bennallel made his first foray in the international restaurant scene in 2011 when he opened his first fine-dining eatery in Paris, Restaurant Akrame. He was awarded a Micheline-star within the first six months. Then half a year later, he received another star.
To date, he has five restaurants under his belt spanning across three different concepts – fine dining at Restaurant Akrame in Paris and Hong Kong; two Atelier Vivanda bistros in Paris, one in Hong Kong; and a wine and cheese bar, BVRT, also in Paris.
Bennallel decided to open in Hong Kong last year, as he sees the city as truly international. Following the success of Restaurant Akrame in Ship Street, Atelier Vivanda opened its doors late last year right next door to its fine dining sister restaurant. While Benellal himself oversees proceedings, the Hong Kong kitchen is helmed by Chef de Cuisine Tribalt Gilardi.
The feel of the 1,300 square foot, 60-seat Atelier Vivanda is conspicuously bistro-like and minimalist – warm, relaxed, and rustic. Coming to think of it, the vibe I get is pretty much of a modern butcher studio. Add a touch of French countryside vibe and accents of leather, stainless steel and wood and there you have it: a modern butcher style bistro with warm hues and minimal decor.
In typical French style, Atelier Viand offers a lunch and dinner formule – effectively the French take on a set menu – featuring your choice of steak, unlimited fries and optiional dessert for HK448 per person (set dinner price).
Not particularly fond of the entree selection I opted for the thinly sliced smoked beef which had been matured for 50 days instead ($198). Just as an aside, did you know that smoking meat was a method used in prehistoric times to preserve protein-rich foods which would otherwise spoil quickly for long periods? Anyways, fact of the matter is this smoked beef was superb and delivered on first bite: salty, smokey, and the absolute perfect texture. Words can't really describe it, you would have to go for yourself to experience the sensation fully.
Thinly sliced smoked beef matured 50 days ($198) – probably the best in town.
As for the mains, the menu had a handful to choose from: Black Angus flank, Black Angus Persille, Yellow Chicken Breast, Duck Breast, Veal Rump, and Iberian Pork Rib. Seeing this is a steak house after all, I was recommended by the staff to try the Persille and that I did – with no regrets. I asked for the meat to be done medium-rare (after all, in the unspoken laws of carnivores, it is a felony to get meat cooked well-done). The meat arrived seared to perfection on both sides, crisp on the outside and pinkish red on the inside.
As for the sides, there is plenty of starch on the offering. Pick from a list including pommes dauphines, pommel dauphines, or gratin dauphinois, among others, to get your potato fix. The waiter gave us the entire selection – all with unlimited refills (but seriously, how much potato can one person eat?). Personally, the pommes dauphin and dauphine were my favorites. I don't think I ever had potatoes done like this before.
Featured here in the foreground are the pomme dauphines and in the background, the pommes darphin.
Thankfully, complimentary salad leaves with unlimited refills were also on the offer to balance out the "meatiness" and "heaviness" of the steak and wide array of potato selection.
As for desserts, the menu offered four selections: creme brûlée, custard/citronella ice-cream, vanilla yoghurt/chestnut cream/pistachio cake, and pear with pine nuts/hot chocolate/bay leaf ice-cream (each for $68). I was intrigued by the thought of the bay leaf ice-cream and how that would taste so opted for the last selection. Granted, the dessert was not the most aesthetically pleasing but boy did it blow my mind. Taste was phenomenal and the ice-cream was superb.
A rather unique dessert that definitely tastes better than it looks – pear with hot chocolate (in reality it is cold), and ice-cream infused with bay leaf flavours.
Now to the verdict: would I come here again? If I am craving for red meat, I don't see why not. Atelier Vivanda delivers on quality steak and has a casual ambience which makes it perfectly fitting for a night out with friends. Throw in the bonus of unlimited sides on offer and it becomes even more so appealing.
Follow us on Bloglovin to read more interesting articles.
Atelier Vivanda
Address: 9A Ship Street, Wanchai.
Facebook page: facebook.com/AtelierVivandaHK
Order online now here.
Follow the map below for directions: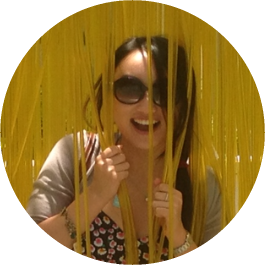 Michelle Tang |
Contributing Editor
Not your most conventional girl. A creative spirit with a zest for adventure, yoga, and food. With a degree in Finance and Law, Michelle was raised in Sydney. Passionate about cooking, writing, food styling and photography, Michelle writes a recipe blog and hosts supper clubs and cooking workshops for groups, private parties, and corporate.