Fancy a gourmet French burger? Then Big Fernand may be the solution for you. Opened by three young French men, the trio have decided to create their own series of gourmet French burgers with the first one opened in January 2012. Since then, Big Fernand has been very well received by locals and tourists alike, so much that they decided to open their first outlet outside of France in IFC, Hong Kong.
Long wooden tables and white tiles add a degree of 'rusticity' to complement the fast food
With wooden tabletops, metal stools and retro lamps, the restaurant exudes an industrial-chic, welcoming vibe.
As for the offerings, expect American burgers with a Parisian twist. Concerned about what you are consuming? Fear not, the ingredients are A-grade, with Australian graded, pasture fed, hormone- and antibiotics-free beef, to fine French cheese made with raw milk. You have the option of either ordering the signature burgers, or for those who want to exercise some creativity, you can opt to stack up your own burger by first choosing the meat (beef, chicken, veal, lamb and veggie), then the cheese, vegetables, sauces and an assortment of fresh herbs and spices.
Spoiled for choice, we ordered a few burgers to share, the Victor ($110), the Bartholome ($115), and the Alphonse ($120).
Le Victor, is a lighter beef burger with Australian veal, Fourme d'Ambert and caramelized onions, also in a Tonton Fernand sauce and sprinkled with coriander. I personally find blue cheese a tad too pungent for burgers (granted, I'm not too big a fan of blue or strong cheeses). Nonetheless, I did enjoy the delicate taste of the veal.
Le Victor – a lighter beef burger with Australian veal and caramelized onions
In my humble opinion, the Batholome was the best. Filled with Australian beef, Raclette de Savoie cheese, bacon, caramelized onions and chives, the burger also features two secret house sauces – "BB Fernand" (a secret home-made barbecue sauce) and "Tata Fernand" (home-made cocktail sauce). On first bite, the beef is exquisitely juicy and flavourful, while the cheese adds a strong, magnificent kick.
Batholome – with its succulent beef and secret sauces, this could possibly be the best burger in town
Lighter than the other two selections was the L'Alphonse, which comprised of a grilled patty of Australian graded pasture fed lamb (no hormones or antibiotics), tomme de Savole cheese, grilled eggplant, coriander and Tonton Fernand (home-made sweet mayonaisse).
L'Alphonse – hormone and antibiotic free Australian graded pasture fed lamb
All in all, the Big Fernand is a cheerful place, with friendly staff and efficient service and satisfying gourmet burgers. For a quick bite in IFC, pop over for a quick fix to your hunger pains or simply order direct from foodpanda.
BIG FERNAND
Address: Shop 2017, 2/F IFC Mall, 8 Finance Street Central.
Opening hours: Mon-Sun 11am-10pm.
Order online here.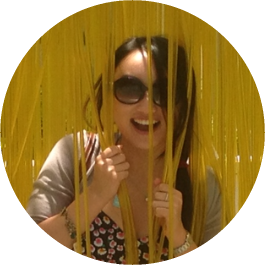 Michelle Tang |
Contributing Editor
Not your most conventional girl. A creative spirit with a zest for adventure, yoga, and food. With a degree in Finance and Law, Michelle was raised in Sydney. Passionate about cooking, writing, food styling and photography, Michelle writes a recipe blog and hosts supper clubs and cooking workshops for groups, private parties, and corporate.