Paris me manqué. As soon as I stepped inside Bistro Du Vin, I instantaneously was whisked back to my days spent in Paris last October. With the rustic interior and warm lighting, I could see that no effort was spared in Bistro Du Vin to create the ambience reminiscent of the authentic Parisian bistros I visited oh-so-frequently during my month's stay in the City of Lights.
The food served is unpretentious, paying homage to the rustic, earthy dishes cooking in classic French-style. Signature dishes range from homemade pork and duck pates and farmhouse-style duck rillettes to classic stews like buillabaisse and braised beef cheek, suckling pig confit, plate-grilled baby squid and Grand Marnier soufflé with vanilla ice-cream.
Not feeling particularly hungry this Friday night, I ordered the seared scallops with seaweed butter. The scallops came in four and were sizable, succulent and seared to perfection. Served in their half shells which sat on top of a bed of rock salt, the juicy scallops came in four and were topped by a generous dollop of seaweed butter.
Seared Scallops with Seaweed Butter – Succulent and delicate in every bite
Thanks to sous vide technology, the scallops were perfectly cooked and finished with a gentle quick sear, thereby retaining their moisture and natural sweet mild flavor. Superb.
Next up, I ordered the Coq au Vin, the classic Burgundian dish of chicken braised in red wine. Made with mushrooms, onions, bacon, red and chicken, this is the classic French dish that was originally considered 'peasant food'.
While the exact origins of the recipe is still unknown – there are two popular myths as to its source, either Napoleon or Caesar – what is known is that the recipe is very old (at least 400 years) but did not become popular until the early 1990s. Since then it has become one of the best known French recipes, both within and outside of France. The affordability of chicken and reasonable-quality wine, as opposed to its traditional old rooster and inferior wine, has transformed it during the past century into fine cuisine, from its original roots in poverty and the need not to waste any food.
Coq au Vin
Layered with the rich aroma of wine, earthy mushrooms, and sweet onions, Coq au Vin is the perfect cold-weather dish, both nourishing and deeply comforting.
The dish was rather generous in serving size and the chicken thigh was tender. I felt that the cook has largely remained true to the dish, to its provenance, its history and soul. Bonus – it also came with a dish of potato mash as a side.
Needing a little bit of 'green' on the side, for $50, I ordered the mixed green salad as a side. The leaves were fresh and lightly dressed with a vinaigrette dressing.
As the old adage goes, there is always a second stomach for dessert. Quite rightly so, I succumbed to my temptations to order the Grand Marnier soufflé ($90). Now waiting for the soufflé takes patience, but straight out from the oven to your dinner table means instant gratification. Thankfully, the soufflé arrived to my table still teeteringly high and mighty and I could taste the hint of Grand Marnier.
Grand Marnier Souffle with vanilla ice-cream.
The perfect way to end a satisfying meal – order the Grand Marnier Souffle with vanilla ice-cream. All in all, bistro du vin is a true 'winner' when it comes to an unpretentious French bistro style restaurant in Hong Kong. The rustic décor, attentive staff, and solid food combine together to make this place perfect for a casual date without breaking the wallet.
Bisto Du Vin Kennedy Town Hong Kong
Address: Shop D, 1 Davis Street, Kennedy Town.
Opening times: Open 7 days a week (Tuesday only evenings)
Order online now here.
Facebook page: www.facebook.com/Bistroduvin.hk
Follow the map below for direction: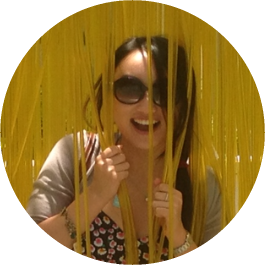 Michelle Tang |
Contributing Editor
Not your most conventional girl. A creative spirit with a zest for adventure, yoga, and food. With a degree in Finance and Law, Michelle was raised in Sydney. Passionate about cooking, writing, food styling and photography, Michelle writes a recipe blog and hosts supper clubs and cooking workshops for groups, private parties, and corporate.