Located on the ground floor of the newly resurrected California Tower in the heart of Lan Kwai Fong, the newly opened Ciao Chow is a new, one-of-a-kind dining concept that houses an Italian cafeteria, coffee bar and full bar under one roof.
Enter Ciao Chow and you can't help but notice the completely modern open kitchen, a coffee bar and a full wine bar with immaculate marble tops and warm rose gold color features. Combined with the grey wall design and bespoke chandeliers, Ciao Chow evokes the feeling of Italian modernity with an inviting, relaxing atmosphere designed to put you at ease.
We start the dinner with a few light appetisers – a serving of meatballs and apple fennel salad. The meatballs…
The Mela Verde ($88), a celery, apple, and fennel salad was fresh but dressing was rather bland for my liking.
Mela Verde – celery, shaved fennel, apple and orange salad
Particularly for those who aren't the most decisive, be forewarned that it can be rather daunting to decide what to eat as the menu has an extensive list of Italian cold cuts to choose from with a few antipasti items, pasta and pizza.
I ordered the burrata which arrived on a wooden board. When cut, the interior spilled out as expected, revealing soft, stringy curd and fresh cream. If you love mozzarella or ricotta, then you can't go wrong with burrata.
Burrata, meaning "buttery" in Italian, is super creamy and utterly delicious.
Next up are the carbs. While Ciao Chow prides itself not only for its pastas but for its pizzas, I brushed aside my "low-carb rule" for dinner and caved in to my weakness for pasta. One thing you've got to know about Ciao Chow are that its pastas are handmade and created by the renowned Yoshitsugu Yamada, the winner of the 2012 Barilla World Champion of Pasta.
Previously, he spent years in Italy and United Kingdom working at renowned Michelin-star restaurants before joining Ciao Chow. His pasta dishes are created by hand utilising the freshest premium ingredients imported from Italy – a true farm-to-table experience.
We ordered the Spaghiettini Ai Ricci Di Mare ($198), in what was described as "a rich sea urchin sauce". Granted, this is not the best sea urchin pasta I've had. The sauce was indeed creamy but not much sea urchin flavor there I am afraid.
Sea urchin pasta – while the sauce is creamy, the sea urchin flavor was not intense
Next up was the Tagliolini al Tartufo ($198). Shavings of black truffle was reasonable and the pasta was very well buttered (gotta watch that waistline!).
The Tagliolini al Tartufo.
For dessert, I ordered the tiramisu ($78). It came on a large rectangular plate, which is, surprisingly, the least boring dish. The balance of cream to cake to liquor was just about right.
Tiramisu, a classic Italian dessert presented in a slightly unorthodox manner
Ciao Chow Italian Cafeteria
Address: G/F, California Tower 30-32 D'Aguilar Street Central, Hong Kong.
Opening hours: Mon-Thurs/Sun 11am-2am. Fri & Sat 11am-4am.
Order online here.
Facebook page: www.facebook.com/ciaochow.hk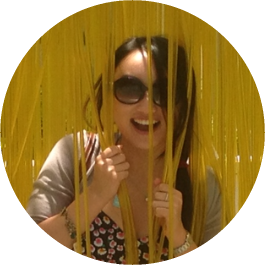 Michelle Tang |
Contributing Editor
Not your most conventional girl. A creative spirit with a zest for adventure, yoga, and food. With a degree in Finance and Law, Michelle was raised in Sydney. Passionate about cooking, writing, food styling and photography, Michelle writes a recipe blog and hosts supper clubs and cooking workshops for groups, private parties, and corporate.