The re-located Crab Noodle from nearer Sheung Wan side has arrived in Lan Kwai Fong. If you walk past, you can't help but become encapsulated by the smell of crustaceans. Usually packed at lunch-hours on weekdays, I opted to try this place on a weeknight instead to avoid the crowds.
As the name implies, this Hong Kong style cafe specializes in noodle and rice dishes that incorporate crabmeat. I ordered the jellyfish with sesame oil to start ($30) and the braised e-fu noodle with crabmeat from their 'Signature Fresh Crabmeat Collection' ($128). I was also curious about the quality of their shrimp roe noodles so ordered to shrimp roe lo mee with Hainan chicken ($52 from 2pm-6pm).
First came the jellyfish. I loved the texture of the jellyfish. It was flavored amazing and portion size was super fair for the price. A great side dish to complement the noodles.
Braised E-fu noodle with crabmeat ($128)
Approximately 10 minutes later, the signature crabmeat e-fu noodles was served on our table. E-fu noodles have a very unique taste. Soft, naturally sweet and a somewhat nutty aroma, e-fu noodles are often consumed on birthday celebrations. The occasion for me tonight though, was not for my birthday.
Rather, I just wanted some carbohydrates to line my stomach and provide me with the energy needed for a one-hour match of badminton that was to follow. The portion size was decent. Paired with yellow chives, the e-fu noodles were braised well and I could taste the flavor of the crab (though I did not see much crabmeat in the dish at all).
Hainanese chicken and shrimp roe "Lo Mee"
Last came the shrimp roe noodles with Hainan chicken. This noodle dish was my favorite and preferable to the crab e-fu noodles. Texture was just right – al dente and 'chewy'. The salty shrimp roe was also rich in flavor. The Hainan chicken was decently marinated and cooked – my protein 'kick' for the evening. For $52 (2pm-6pm), portion size was definitely reasonable too and came with a drink.
In short, Hong Kong Style Crab Noodles is a decent Hong Kong style cafe whereby one can stop over for a quick and casual meal. It is however, much cleaner than your average Hong Kong noodle joint and the noodles are way more expat-friendly (ii.e. no offal or gelatinous animal parts). Best to go early though on weekdays to avoid the lunch hour crowd.
Crab Noodles
Address: G/F, 22 D'Aguilar Street, Central.
Telephone: +852 2866 0478
Opening hours: Mon-Sun 11am-9pm
Ordering online here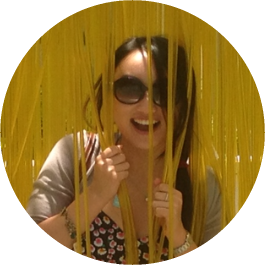 Michelle Tang |
Contributing Editor
Not your most conventional girl. A creative spirit with a zest for adventure, yoga, and food. With a degree in Finance and Law, Michelle was raised in Sydney. Passionate about cooking, writing, food styling and photography, Michelle writes a recipe blog and hosts supper clubs and cooking workshops for groups, private parties, and corporate.