Flaming Frango is SoHo's own rooster-logoed piri-piri chicken joint. Talk about chicken galore, at first glance at the a la carte menu you can literally take your pick of flame-grilled chicken, chicken quesadillas, chicken burgers, chicken pizzas and chicken wings, all drenched in feisty piri piri sauce.
To start, I ordered a Mediterranean Salad (yes, I have a weakness for Haloumi) and the Piri Piri prawns to share.
The Mediterranean salad ($88) was a simple concoction of mixed greens with a lemon-olive oil dressing, toppled with slices of orange, black olives and pan-fried haloumi
The Mediterranean Salad – fresh vegetables with pan-fried halloumi, accentuated by the tangs of fresh orange, lemon, red pepper and olives
The piri-piri prawns ($138) arrived in a portion of five. Admittedly, the prawn flesh was a bit "soft" but nonetheless, it was adequately flavored and makes for a decent starter.
The Portuguese style calamari ($88) helped redeem the prawns. Beautifully presented, the calamari was fresh, and not overcooked. The mint and coriander piri-piri sauce beautifully complimented the dish.
Portuguese Calamari – flash-sauteed calamari with onion, pepper, tomato and herbs, served with mint and coriander piri piri
Now for the star dish of the night, the Piri Piri chicken. Now for a small dosage of history. Piri Piri chicken is a type of chicken dish marinated in chillies, herbs and lemon then flame grilled. This wonderful recipe had originated in Africa using a type of bird's eye chillies also called the African devil. These chillies, together with other herbs make the marinade so delectable. This great ingredient was discovered by the Portuguese on one of their expeditions in Africa and they quickly started incorporating this chilli in their local dishes. The Portuguese then popularized it and later renamed it as piri piri, the rest was history. Nando's, on the other hand, commercialized it and was successful in that regard.
We ordered half a chicken to share (for $198 you get your choice of two sides too). Juicy, tangy and incredibly moreish, you can see why their chicken is literally the house special. For the sides, we opted for Frango's rice (turmeric rice really) and roast vegetables.
As for the décor, expect comfy high tables in a simple and sociable setting with a few spots to sit outdoors and people watch.
Flaming Frango
Address: G/F, 38 Staunton Street, Central.
Opening hours: Everyday, 12noon-12am.
Order online here.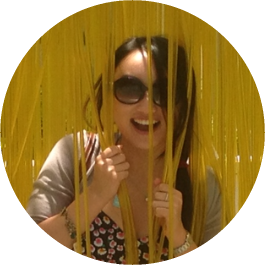 Michelle Tang |
Contributing Editor
Not your most conventional girl. A creative spirit with a zest for adventure, yoga, and food. With a degree in Finance and Law, Michelle was raised in Sydney. Passionate about cooking, writing, food styling and photography, Michelle writes a recipe blog and hosts supper clubs and cooking workshops for groups, private parties, and corporate.