If the thought of pork knuckle, crispy suckling pig, or juicy pork chops is enough to get you salivating then Sai Ying Pung has a solution for you: Flying Pig Bistro.
Flying Pig is one of the newer bistros to enter the row of trendy and hip eateries that have cropped up along High Street. It is the latest addition to the impressive stable of Hong Kong restaurant group French Creations (who are also being Pasties, Metropolitan, Le Boudoir, and Comptoir). Founded by Christopher Pryzemyski and Hong Kong-based artist Malcom Golding, Flying Pig Bistro offers quality European comfort food in a relaxed and casual dining setting.
Flying Pig offers all-day-dining so you can stumble there for a hearty brunch, lunch, or satiating dinner (with wine of course). Dishes use specially imported European products mixed with local ingredients to give an Asian twist. As suggested by the name, pork is at the center of the menu but for those who aren't a fan of the porcine selection, there are plenty of other dishes available on offer including a daily Chef's Special.
European Comfort Food in a Hip and Relaxed Environment
Warm candle lights and a pink gerbera daisy as the centerpiece of the dining tables help set a comfortable mood for a relaxing evening.
Upon entering the bistro, creatives can immediately feel at home. Malcom has materialised his vision of injecting a subtle touch of rawness to a non-pretentious space where people can enjoy good banter and good food in a comfortable setting. The urban-cool design features furniture that mixes recycled pallets with metal elements creating a casual rustic vibe. At night, the candles come out and each table has a freshly cut single pink gerbera daisy to lighten the mood. Some quirky accents include a giant broken mirror behind the bar, graffiti on the walls and boxes full of retro photographs.
Asian tuna tartare – highly recommend for those who want to star the evening with a lighter and more refreshing appetizer.
For the entree, I ordered one of the lighter signatures, the Asian tuna tartare ($135). The tartare arrived on a bed of avocado with sprinkles of toasted sesame on top. This dish was definitely the highlight for me: quality of the tuna was fresh and the hints of limejuice with the avocado simply tasted phenomenal when eaten spoonful by spoonful with the fresh tuna.
Chef's Daily Special – New Zealand baby lamb racks with roasted vegetables and rosemary sauce.
As for the main, I wasn't feeling particular about pork tonight so I opted for the Chef's Special: the baby lamb racks with roasted vegetables and rosemary sauce ($330). The lamb racks were sourced from New Zealand, and arrived medium-rare on black slated plate. The chops were juicy and tender, and the rosemary sauce complemented the meat beautifully.
The rich but oh-so-delightful Warm Chocolate Pudding.
To end the meal, I couldn't resist but try the Warm Chocolate Pudding ($78). The pudding was rich in chocolate flavour and came with a scoop of vanilla bean ice-cream. After devouring this, I was pretty much stuffed by the end of the night and resolved to go jogging the next morning.
All in all, Flying Pig delivers on quality European comfort food and is a great place to go with a group of friends. Do try their signature porcine dishes such as the pork knuckle and pork burger. For those who want a longer night out, you can also check out the nearby trendy Ping Pong bar afterwards on Second Street. The selection of gin and tonics there is endless.
Flying Pig Bistro
Address: 62 High Street, Sai Ying Pun
Opening Hours: Mon-Friday 11am-11pm; Sat & Sun 9am-11pm
Order online here.
Facebook page: facebook.com/flyingpigbistrohk
Follow map below for direction: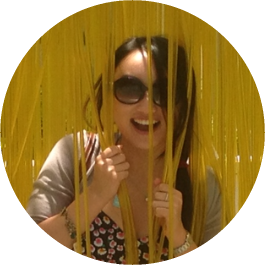 Michelle Tang |
Contributing Editor
Not your most conventional girl. A creative spirit with a zest for adventure, yoga, and food. With a degree in Finance and Law, Michelle was raised in Sydney. Passionate about cooking, writing, food styling and photography, Michelle writes a recipe blog and hosts supper clubs and cooking workshops for groups, private parties, and corporate.