Named after two of the earliest grain varieties used for noodles, Foxtail and Broomcorn is a 'must go' for noodle aficionados. This hip and trendy Sheung Wan joint puts a twist on traditional noodle favourites, doing away with the MSG.
With its clean, sleek and brightly lit interior, the atmosphere is lively and welcoming (even on a rainy day) and filled with noisy chatter during weekdays lunchtime.
Innovative MSG-free Asian Noodles with a European Twist
I had the pleasure to engage in a quick conversation with the Owner and Operator, a Swiss-trained hotelier by the name of Victor Arminjon, who was kind enough to hand me his business card and described to me the process of crafting a few of their dishes. Turns out that he was inspired by different places and flavours from all around Asia, hence names such as "Taipei" and "Hoi An" in his noodle menu. As for the source of their ingredients, he told us he doesn't source from China, with most ingredients coming from Europe or locally.
To start, I ordered the beef salad to load up on my vegetable quotient for the day. Quality of the shredded beef was decent and the lemongrass dressing provided a perfect light balance with hints of Vietnamese flavors to the bed of raw vegetables.
No carbs? Try the Beef Salad – a delicious Vietnamese inspired salad in lemon grass dressing with shredded beef.
At the heart of the menu booklet are the 8 signature MSG-free noodles. You can expect to find pretty much every type of noodle here, from a comforting bowl of ramen, to udon to hokkein noodles.
We ordered the Chef's pick, the Katong Laksa ($92) which is basically a Singaporean Laksa brimming with tender shredded chicken, the freshest fish and prawn balls, fresh rice noodles, fried tofu, hard boiled egg, laksa leaves and beansprout.
The Chef's pick – the Katong.  A Singaporean laksa with chicken, fresh fish, prawn balls, fried tofu, and hard boiled egg.
Next up was the Izumo, cold soba with slow cooked duck with a reduced Japanese style soya sauce made in house ($88).
The Izumo – cold soba with slow cooked duck in housemade Japanese style soya sauce.
As a side, I ordered the pork and parmesan flavoured truffle dumpling. It arrived in two with soy sauce and chives. The truffle flavour came from the truffle paste. Amazingly delicious!
Pork and Parmesan Favored Truffle Dumpling – sizable and succulent dumplings with a hint of truffle paste.
For dessert, Victor recommended I order the Kueh Dadar, a pandan flavoured crepe with coconut filling. Sweetened with brown sugar from Malaysia, this dessert was light and a brilliant way to end a carb meal on a sweet note without killing oneself.
Kueh Dadar – Pandan flavored crepe with coconut filling.
On a last note, following the success of their first joint, Foxtail and Broomcorn is opening their second outlet in Wan Chai on 22nd January at 2 Landale Street. Do pay a visit if around the vicinity.
Foxtail and Broomcorn
Address: G/F, 84 Jervois Street, Sheung Wan.
Opening hours: Everyday, 12-10pm.
Order online here.
See map below for direction: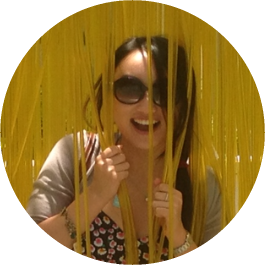 Michelle Tang |
Contributing Editor
Not your most conventional girl. A creative spirit with a zest for adventure, yoga, and food. With a degree in Finance and Law, Michelle was raised in Sydney. Passionate about cooking, writing, food styling and photography, Michelle writes a recipe blog and hosts supper clubs and cooking workshops for groups, private parties, and corporate.