Styled after traditional 1920s Belgian beer halls with high ceilings, rustic tables, FRITES Belgian beer house has reopened in Central – hurrah! Presenting an array of delicious, traditional European fare washed down by one of Hong Kong's largest selections of draught and bottled Belgian beer, I took a trip down to The Wellington to pay FRITES a visit for a long and relaxed lunch.
To start, I ordered the salmon tartare to share ($155). The entrée was beautifully plated with a generous squiggle of mustard on top and strips of thinly sliced cucumber as a base. The salmon was fresh and firm and mixed with chives, shallots, gherkin, ginger, cilantro, lime and amarillo.
SALMON TARTARE | Finely diced salmon delicately balanced with a hint of cilantro and lime
From the snacks menu, the prawn and crab balls caught my eye ($80). Arriving in a portion of 5 balls, the inside consists of rice inside mixed with snippets of prawn and crab for flavour, finished with a dollop of chive aioli.
Now who can go to FRITES without ordering a pot of mussels? Central to the a la carte menu are the famed mussel pots, which come in 500g or 1kg portions and come in six flavors.
Typically I would order the 'Provencale', which consists of a simple mixture of tomato, garlic, onion, and herbs. Today, however, I was feeling a bit more adventurous and opted for the 'Mediterranean', a hearty blend of chorizo, chilli, onion, coriander and yellow pepper sauce.
MEDITTERANEAN MUSSEL POT | A rich concoctions of Mediterranean flavours with hints of chorizo and yellow pepper.
To finish off, I ordered a sticky date pudding ($75) to share – one of my all time favorite desserts. The texture of the pudding was firm, the butterscotch sauce was rich and beautifully complemented by the scoop of vanilla ice-cream. Other options include Belgian wafffles, apple tarte tatin, Bailey's crème brulee and a dame dame blanche.
STICKY DATE PUDDING | The sweetness of dates drowned in a puddle of warm butterscotch sauce.
All in all, FRITES has created the perfect atmosphere for sharing hearty portions of great food, great brews and great conversations with friends. FRITES is also family friendly. With a dedicated KIDS AREA every Saturday and Sunday, parents can relax and enjoy their meals while the kids stretch their muscles and imaginations in a spacious kids area.
FRITES Belgium On Tap
Address: 1/F, The Wellington, 198 Wellington Street, Central. FRITES also has locations in Wan Chai, Causeway Bay and Quarry Bay.
Opening hours: Mon-Sun 11:34am-12am.
Order online here for home delivery.
Facebook page: www.facebook.com/friteshk.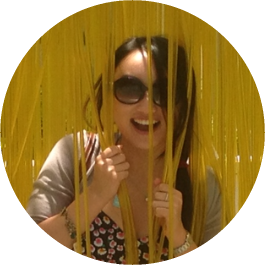 Michelle Tang |
Contributing Editor
Not your most conventional girl. A creative spirit with a zest for adventure, yoga, and food. With a degree in Finance and Law, Michelle was raised in Sydney. Passionate about cooking, writing, food styling and photography, Michelle writes a recipe blog and hosts supper clubs and cooking workshops for groups, private parties, and corporate.