A Medley of Traditional Curries, Meat Specialties and Vegetarian Dishes.
Ganga's, formerly known as Gunga Din's, is located directly below a busy section of Wyndam Street, and its entrance is through an easily "missable" staircase.
On first glance at the menu, you will be confronted with the proverbial paradox of choices. Ganga's serves a wide variety of regional Indian specialties, from Keralan fish curries and vindaloo from the south to lam rogan josh from the north. As with most Indian restaurants, vegetarians are well catered for. As per usual, I ordered my favorite vegetable dish, the Sag Paneer.
Saag paneer originated in North India in the Pubjab region. In India, this dish is actually known as palak paneer – saag is actually just a generic world for greens. Paneer is a fresh white unsalted cheese. The combination is amazing.
To mop up all the curries, picking a naan is the obvious choice. Now, as for which naan that is a different question. To be a bit more unconventional, I picked the Peswari Naan ($48 a piece), and boy this blew my mind away. With the addition of stuffed fruit and pistachio mixture, this is possibly the best naan I've tasted in Hong Kong. I could, in fact, tastefully eat this by and of itself without mopping up any curry juices.
Peshwari Naan (on the left) – this naan has a slightly sweet flavor (from the raisins and sugar) and is tasty in and of by itself.
For the protein kick, I ordered the classic Tandoori chicken (half portion for $95). In less than 20 minutes, two tandoori chicken marylands arrived on a bed of onions delivered on a hotplate on to our table. Tandoori chicken basically consists of roasted chicken marinated in yoghurt and then seasoned with the spice mixture tandoori masala.
To give the chicken a fiery hue, cayenne pepper or turmeric is often used. It is traditionally cooked at high temperatures in a tandoor (clay oven) – hence the name – but can also be prepared on a traditional barbecue grill. The chicken was tender and sufficiently marinated to the right degree to give it enough flavor. For $95 half portion, the price was reasonable for the amount given.

As per Ganga's menu, one of their signature dishes was the Lamb Shank Masala ($160). The lamb skank has been slow cooked to reach sufficient tenderness and came with a gravy that tasted of a concoction of garam masala, ginger, paprika, onions and garlic. Portion size was generous so best advised to share if ordering this dish.
The waiters at Ganga's are attentive, and the décor is simple with white stucco walls, bright lampshade giving pops of color. A meal for one can easily come under $500 HKD. Considering the central location and good range of curries, I would say this is rather reasonable.
Ganga's
Address: LG/F, 57-59 Wyndham Street, Central, Central, Hong Kong.
Opening hours: Mon-Fri 12noon-3pm (lunch); Mon-Sun 6pm-11pm (dinner).
Follow this link to order online.
Facebook page: www.facebook.com/GangasIndianCuisine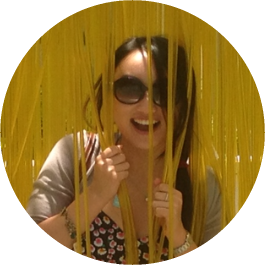 Michelle Tang |
Contributing Editor
Not your most conventional girl. A creative spirit with a zest for adventure, yoga, and food. With a degree in Finance and Law, Michelle was raised in Sydney. Passionate about cooking, writing, food styling and photography, Michelle writes a recipe blog and hosts supper clubs and cooking workshops for groups, private parties, and corporate.