Albeit hidden upstairs, Hong Kong now has a cafe specialising in Kale. This little eatery is ideal for a lunch date or when you are in the mood for excessive health. Before I digress though, one thing I want to make clear: while the name may seem to imply so, Kale is not a 100% vegetarian eatery. It is, however, a healthy eatery that focuses on serving a complete range of lean and green meals for breakfast, lunch and dinner.
Perched high up on the top floor with a brightly lit interior, Kale feels like a mini-sanctuary in the heart of the bustling business district.
After struggling to find this actual joint (which is hidden on level 13 of Cheung's Building), I was greeted with a brightly lit open space, decked out with high stools and an open kitchen. Unlike other cafes in the prime Central district which are jam-packed (to optimise on rent of course), Kale is spacious and welcoming – makes you feel as if you been transported somewhere else.
Part of the healthy menu at Kale – salads, shakes, fries, etc. – all good to go
Much to my disappointment though, all the salads were sold out today. As an alternative, I tried their new Kale Quinoa Pockets (not yet published on their printed menu yet). Calling them 'quinoa' pockets is slightly deceptive though, as the filling consists of brown rice too – not just quinoa. Nonetheless, these gluten-free gems are a delight and have replaced the previously sold sliders. For $48, these quinoa pockets are made fresh daily on the premises and are available in 3 flavors: Nutty Tofu (vegan), Halloumi with hummus (vegetarian) and Sesame Chicken. What's more, they can be served hot or cold so make for a delicious grab-and-go dish.
Nutty Tofu (vegan) Quinoa Tofu Pocket
A closer shot of what's inside the tofu pocket – brown rice, quinoa, and kale leaves
The Halloumi with Hummus Quinoa Tofu Pocket – will come back again just for this
To quench my thirst, I ordered one of their healthy signature juices, the Kail Juice ($42). The blended Kale leaves with cucumber and mint was so refreshing and made me feel 10x healthier straight away. After all, Kale is one of the healthiest vegetables around and delivers high dosages of vitamins K, A and C.
The signature Kail Juice – a refreshing blend of cucumber, mint, and kale leaves
Still feeling thirsty and craving for something sweet, I also ordered the Choco ($50) smoothie to try. Boy, was this delicious. The mixture of cacao powder, almonds, dates, banana, and soy milk make for a powerful and addictive combination.
Choco Shake – a delicious and rich blend of cacao, banana, date, almonds and soy milk
All in all, Kale is a decent healthy eatery serving fresh food that is perched above the bustling Central district, therefore making it an excellent mini-sanctuary for the rush lunch hour. Do try the Quinoa Pockets if you have a chance.
Kale Cafe Hong Kong
Address: Rm 1301, Cheung's Building, 1-3 Wing Lok Street, Sheung Wan
Opening Hours: Mon-Sat 11am-8pm, Sun 12-5pm
Facebook page: www.facebook.com/kaleinternational
Follow the map below for directions: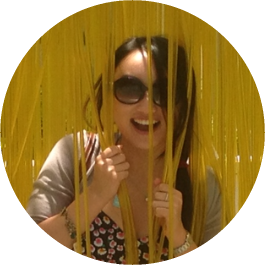 Michelle Tang |
Contributing Editor
Not your most conventional girl. A creative spirit with a zest for adventure, yoga, and food. With a degree in Finance and Law, Michelle was raised in Sydney. Passionate about cooking, writing, food styling and photography, Michelle writes a recipe blog and hosts supper clubs and cooking workshops for groups, private parties, and corporate.