KHANA KHAZANA
Authentic Indian Home-Style Vegetarian Fair
With a long history in Hong Kong, Khana Khazana serves low key home-styled foods including North, South-Indian vegetarian dishes as well as Indian street foods. With chefs originating from India, most dishes are prepared in Vegan style and the restaurant seems to attract a steady following.
First dish we ordered to start the evening was the Tandoori Platter ($108). Expect to find cucumber, cauliflower, Paneer (Indian cottage cheese) in the lot.
Next up was the Baigan Bharta, a North Indian specialty of roasted brinjals, skinner and made into a simple but exotic preparation.  Some sort of resemblance to baba ghanoush, it is a vegetarian dish prepared by mincing eggplant that is grilled over charcoal or direct fire. This infuses the dish with a smoky flavor. The mashed eggplant is then often mixed with fresh cilantro, chili pepper, onion and mustard oil.
Baigan Bharta ­– some resemblance to a baba ghanoush
Now for my all-time favourite dish, the palak paneer. The paneer cubes were nice and soft, simmered in a smooth gravy sauce made from pureed spinach and fresh Indian spices.
Palak Paneer – a popular spinach based gravy dish made with spinach puree, spices and paneer.
Now for the more interesting selection, desserts. Being the curious person that I am, seeing something rather unique with the word 'saffron' in it, I immediately picked the Kesar Badam Kulfi.
 For those who are unaware, Kesar Bedam Kulfi is an Indian dessert flavored with saffron and almonds served ice chilled. Bit harder than regular ice-cream (less aerated is my guess), this was definitely an interesting dessert for me. I could taste the subtle floral hints of the saffron complemented by the cardamon.
Kesari Badam Kulfi ˆ– an ice-cream made with saffron, the most expensive spice in the world.
As for the interiors, expect modesty and spaciousness. White linen tablecloths, wooden chairs and tiled floors with ceiling to floor windows. Staff are attentive and friendly, checking in every now and then to ensure guests are having a good time and satisfied with the cuisine.
Modest interiors with attentive service from friendly staff
Overall, Khana Khazana makes for a great place for casual dining. The combination of a spacious layout, friendly staff and a wide menu selection makes it a perfect spot for hosting private parties, corporate events and to celebrate any special occasion.
Khana Khazana Indian Vegetarian Restaurant and Bar
Address: 1/F Dannies House, 20 Luard Road, Wan chai.
Phone: 2520 5308
Opening hours: Mon-Friday 12-3:30pm, 6:30-11pm. Sat-Sun 12-11pm.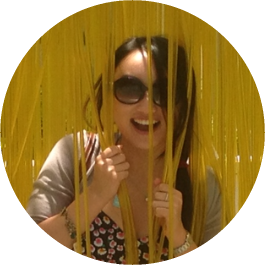 Michelle Tang |
Contributing Editor
Not your most conventional girl. A creative spirit with a zest for adventure, yoga, and food. With a degree in Finance and Law, Michelle was raised in Sydney. Passionate about cooking, writing, food styling and photography, Michelle writes a recipe blog and hosts supper clubs and cooking workshops for groups, private parties, and corporate. Visit Michelle's Facebook page here. Welcome Kitchenmess!