KOH THAI
Flavorsome Thai Favorites in a Relaxing Setting
By Michelle Tang
Without taking a flight to Thailand, you will find a piece of Thai on Mosque Street. Situated just adjacent to the escalators is Koh Thai, a casual restaurant that aims to serve a range of authentic Thai delicacies in a relaxed and comfortable setting.
Comfortable clean décor with a choice of high or low table seating
To start, we ordered the "Yum Som O", the Thai pomelo salad ($118). Pomelo, or "som o" is a citrus fruit native to South East Asia and as the name of the salad suggests, it is the main ingredient. The pomelo was sweet and juicy, blending well with the succulent bites of prawn meat and tangy lime-contained dressing.
Yum Som O ­– A sweet and juicy appetizer, one of the most popular Thai salads.
Next up as an appetizer was the soft shell crab salad ($158). Contrary to popular perception, soft shell crabs are not their own species. They are just ordinary crabs that have gotten too big for their shells. In order to keep growing, they have to shed their shell to grow a new, bigger one. To do so, they form a new "coat" underneath, and then puff themselves up to break their current shell. Once they release themselves, the coat will harden in just a couple of hours into a new shell. As such, this leaves a very short window for fishermen to catch the crabs during this transition period.
As for the soft shell crab salad at Koh Thai, they serve two pieces of the soft shell crab fried to light crispy perfection. Equally as 'crisp' is the accompanying green mango salad dressed with a sweet, salty and sour dressing.
Salty-sweet, tender-crispy soft shell crabs on a bed of green mango salad.
Now the signature main at Koh Thai is the Phad Thai Kung Yai ($298). Priced higher than the regular Pad Thai, this one is made with jumbo prawns to justify the higher "surcharge". When the dish arrived on our table I could confirm that boy were these prawns massive. The flesh was firm and fresh, and the pad thai noodles were – thankfully – not gooey with a perfect balance of sweet, salty, and sour.
Not your usual Pad Thai – prawns as big as your palms.
If you come during happy hour time, Koh Thai even offers a 25% discount off each dish (didn't expect that). Given its reasonable pricing, relaxed surroundings and attentive service, Koh Thai on Mosque Street offers a nice and calmer alternative to the usual eateries along mainstream Central.
Order online from any of KOH Thai's outlets in Hong:
✓ Koh Thai Mid Levels
✓ Koh Thai Wan Chai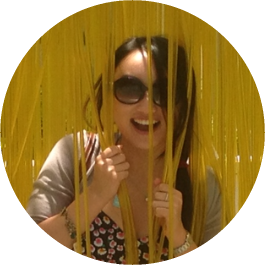 Michelle Tang |
Contributing Editor
Not your most conventional girl. A creative spirit with a zest for adventure, yoga, and food. With a degree in Finance and Law, Michelle was raised in Sydney. Passionate about cooking, writing, food styling and photography, Michelle writes a recipe blog and hosts supper clubs and cooking workshops for groups, private parties, and corporate. Visit Michelle's Facebook page here. Welcome Kitchenmess!