Brought to you by the team behind the popular Spanish restaurant Fofo by El Willy, is La Paloma, their second Spanish tapas restaurant in Sai Ying Pung. The menu has been put together by chef duo Willy Trullas Moreno and Alex Fargas. It is simple with a wide array of small plates to choose from.
La Paloma provides a stark contrast to the décor of Fofo, which is all white, clean and very simple. Colorful and bright, there are colorful pigeons dotted around wherever you look. Inspired by 'chiringuitos' – Spanish beach bars. You will also notice live paella stations, traditional clay oven perfect for whipping up suckling pig, and a bar area.
The menu has been put together by Catalan chef duo Willy trullas Moreno and Alex Fargas. It is simple with a wide array of small plates to choose from. If you have a large group, a set menu is also available.
To start the night and get us into 'fiesta' mood, we ordered a pitcher of the Red Wine Sangria ($228) which was delicious – fruity but not too sweet, and very refreshing. It complemented all the tapas we selected and almost went down too well. As an alternative, they also offer White Wine Sangria if you are looking form something lighter.
As a starter, we ordered the "Paletilla", a Premium Iberian acorn fed ham shoulder. Iberian ham always goes down well. Perfect to whet the appetite. Did you know there have been studies that claim that Iberian ham helps reduce levels of bad cholesterol?
The ham arrived with bread and tomato, just like how they have it in Catalonia
Next up was the "Sardinillas". This tapas was superb and my favorite. I really enjoyed the rustic presentation wherein the sardines came in half of a sardine tin. The salty fish with the olives was intensely flavorful and had a light tomato base, perfect for munching on if you want something small and salty to go with your ice cold beer or sangria.
Sardinillas – Baby sardines, salmorajo and toppings
Another signature tapas is their explosive Salmon a Humado ($25 a piece). These are supposed to be devoured all in one go. The creamy inside had a subtle spice to it and perfectly complemented the fresh smoked salmon on top. While not traditionally Spanish, these bite-sized delights were definitely fun to eat.
Salmon A Humado ¬– explosive salmon with chipotle cream and marinated salmon roe
We also tried the Croquetas de Pollo ($55), which had nice crispy coatings covering the chicken inside.
Croquetas de Pollo ¬– which had nice crispy coatings covering the chicken inside
As for a "must-try" dish, I encourage you to order the Gambas Al Agillo ($78), The juicy prawns are so smack fresh and succulent and smothered with generous flavors of garlic and olive oil sauce.
Gambas Al Agillo ($78) – If you fancy prawns, this is a must order tapas dish
And what is Spanish food without chorizo. On that note, we ordered a Chorizo Al Tio Pepe tapas to share ($78). Arriving in a mini cocotte, I could taste the succulent mixture of pork (and pork fat) in the chorizo which was seasoned well with a hint of paprika and finished with a splash of Sherry wine.
Chorizo Al Tio Pepe – Pan fried chorizo with a splash of Sherry Wine
Overall, La Paloma is a fun and lively place where a range of delicious tapas is served. Because the vibe is upbeat and friendly, and the prices remain a notch under most Spanish establishments in town, it makes for an excellent establishment for an intimate gathering with close friends.
La Paloma
Address: 1/F, SoHo 189 Queen's Road West, Sai Ying Pun, Hong Kong.
Facebook page: www.facebook.com/Lapalomahk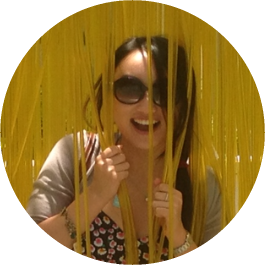 Michelle Tang |
Contributing Editor
Not your most conventional girl. A creative spirit with a zest for adventure, yoga, and food. With a degree in Finance and Law, Michelle was raised in Sydney. Passionate about cooking, writing, food styling and photography, Michelle writes a recipe blog and hosts supper clubs and cooking workshops for groups, private parties, and corporate.