Formerly located in L Place, Linguini Fini has relocated to Elgin Street and offers simple Italian food in a casual setting, all at affordable prices for the Soho area. The vibe has remained the same (i.e. unpretentious) from what I remember and I didn't notice any drastic changes in the quality of the food (nor in the portion sizes). Refreshingly simple in concept, Linguini Fini reinforces the fact that the group behind Posto Pubblico really do know their Italian fare.
Now, when it comes to Italian food, one of my favorite sides (besides burrata) are the meatballs. Savory, hearty, and oozing with goodness in every bite, a great meatball is no doubt one of my favorite culinary creations. So I put Linguini Fini to the test by ordering their mini meatballs ($58) as a side. The meatballs arrived in three and delivered intense flavors on every morsel.
Mini Meatballs ($58) – plump, juicy ball of highly seasoned meat that's so tender a spoon can pass right through.
I also ordered another vegetarian antipasti, the Homegrown Verdure Board ($118). This platter comprised of a selection of beetroots, Brussels sprouts, potatoes, and broccoli.
Homegrown Verdure Board – Seasonal selection of roasted, raw and marinated organic vegetables.
For the Secondi (mains), I opted for the Rotisserie Porchetta ($218), a 10-hour roasted pork belly. As pictured below, the Porchetta arrived as a salad mixed with shredded basil, fennel, red onions and a side of chili mustard. The pork was tender and flavorsome and its saltiness was counterbalanced with the fennel and red onions.
Rotisserie Porchetta – 10-hour roasted pork belly with basil, fennel, and red onion salad.
Now onto the carb dish: pasta. I recalled this place being fantastic for their pasta selection and I was not wrong. I ordered one of their signatures, the parpardelle "Nose to Tail" Bolognese ($178) which consists of pork testa, veal loin and oxtail ragu. This dish was definitely the highlight of the night. The ragu was rich in taste and slow-cooked to perfection. Complemented the egg rich Parpadelle perfectly.
Parpardelle "Nose to Tail" Bolognese – Pork testa, veal loin & oxtail ragu ($178)
To finish things off – particularly in an Italian restaurant – I always end with a Tiramisu. Surprisingly though, Linguini Fini doesn't offer this traditional classic Italian dessert. Instead, they offer 3 selections: Caramel Apple Pie ($78), Hot Chocolate Affogato ($68), and a Chocolate Banana Cake ($78).
Seeing there was milk gelato featured in the affogato, it was a 'no brainer' for me. The dessert arrived in DIY style, with the gelato in a tumbler alongside the hot chocolate melted inside a small cup. The flavor was rich and intense and the cubes of cinnamon toast provided that extra 'crunch' factor to differentiate itself further from the traditional affogato (which uses espresso).
All in all, I have no regrets revisiting the newly relocated Linguini Fini. The meal was satisfying, service was attentive, atmosphere was laid-back and relaxed which makes for a nice restaurant to go to with a small group of friends.
Hot Chocolate Affogato ($68) – not your average affogato. Here you will find milk gelato, toppled with hot chocolate and the added 'crunch of cinnamon toast.
Linguini Fini
Address: 49 Elgin Street, Central
Opening hours: Lunch 12:00 – 3:00. Dinner 6:00 – 10:30. Brunch 12:00 – 4:00.
Follow map below for direction: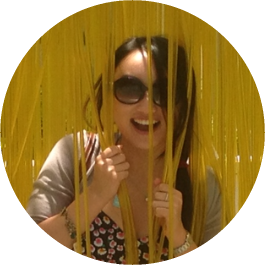 Michelle Tang |
Contributing Editor
Not your most conventional girl. A creative spirit with a zest for adventure, yoga, and food. With a degree in Finance and Law, Michelle was raised in Sydney. Passionate about cooking, writing, food styling and photography, Michelle writes a recipe blog and hosts supper clubs and cooking workshops for groups, private parties, and corporate.