With all the fitness rage going on these days, many of us urbanites are in search of healthier lifestyles. Part of the equation to a healthier lifestyle encompasses diet too – i.e., healthier food options sourced locally that are organic and free from harmful pesticides and chemicals.
Designed for the health conscious, Locofama is tucked away in the Fuk Sau Lane cul de sac. With its slogan of "fresh organic bites", their menu has options for every diner, including vegan, dairy-free, nut-free, and pescetarian dishes, as well as swappable options like gluten-free pasta. In response to the latest food fad to hit the fitness scene – the "paleo diet" – Locofama also serves an array of carb-free dishes, where diners can get full flavor, minus the calories that come with carbohydrates like rice, pasta, and bread.
The Superseeds on display – Pumpkin, Quinoa, Chia, Sunflower
The ambience is cosy and laid-back – clean lines, well-lit interiors with natural sunlight and wooden furniture. Upon entering, there is a large communal table and behind that, the open kitchen. To the right, there is blackboard with the chef's recommendations and the daily specials.
Natural sunlight and wooden furnishings work together in tandem to give effect to a rustic and casual laid-back environment
Feeling particularly hungry after an intense spin session at XYZ, I met up with a friend for lunch at Locofama. While she ordered from the brunch menu, I chose to order the a la carte menu. After taking a good look at the extensive menu, I picked the seared scallop ($88), saikyo miso organic salmon ($168), and a seared octopus and baby spinach salad ($98).
The seared scallops arrived in a portion of two. Garnished with garlic and leek, the scallops were sizable and were pan-fried without a dry and rough interior.
Succulent seared scallops with cauliflower, garlic, onion, leek and white balsamic
As for the salmon, the miso flavor was prevalent and portion size was decent. The salmon arrived piled on top of some asparagus and cherry tomatoes.
Pan-fried saikyo miso organic salmon with asparagus, cherry tomato, and basil oil
The salad was a healthy combination of seared octopus mixed in a bed of baby spinach, sweet mandarin, cherry tomato and drizzled with a light pomegranate dressing. Ingredients were fresh and enough to make me feel like I just packed in all my daily nutrient intake in a bowl.
Seared octopus and baby spinach salad with pine nuts, mandarin orange, tomato, and pomegranate dressing
For drinks, I ordered the Miracle Berry ($48), which consisted of a concoction of goji berries, red dates and coconut water. Quite a unique and interesting blend of flavors.
Overall, our lunch at Locofama was surprisingly delicious given how healthy the food was, with the majority of dishes priced around the $70-$170 mark (which is reasonable considering ingredients are organic). So if you are looking for a different part of town to chill-out, head over to Locofama for a fresh and organic meal that delivers on both nutrient and taste.
Locofama Hong Kong
Address: G/F Fuk Sau Lane, Sai Ying Pun Western District.
Follow this link to order online.
Facebook Page: www.facebook.com/Locofama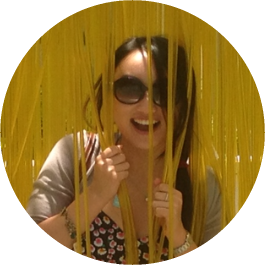 Michelle Tang |
Contributing Editor
Not your most conventional girl. A creative spirit with a zest for adventure, yoga, and food. With a degree in Finance and Law, Michelle was raised in Sydney. Passionate about cooking, writing, food styling and photography, Michelle writes a recipe blog and hosts supper clubs and cooking workshops for groups, private parties, and corporate.