Processed carbs, greasy food, MSG, preservatives. These terms are all too familiar with the fast food we find in Hong Kong. Thankfully, MANA! Fast Slow Food provides a breath of fresh air to the local dining scene by offering us urbanites a selection of healthier alternatives.
Serving healthy, organic, vegetarian, vegan and raw fast food with plenty of gluten-free options in an eco-friendly and responsible manner, MANA! sends a powerful signal to us that we should "eat like it matters" (their motto). For a bit of background, MANA! was set up by Bobsy (the founder of Life Café and the Bookworm Cafe on Lamma) and Christian, a chef who previously worked with the likes of Alain Duncasse in France.
What MANA! take most pride in, however, are the flatbreads. Freshly baked in their handmade brick oven and smothered in Zaatar, there are options to fill them up with all sort of goodness. Once wrapped, you are ready to go. For $97, I selected a flatbread with 5 toppings – caramelized onions, hummus, haloumi cheese, roasted veggies, and avocado. I also ordered the popular Babylon Shake ($65), which includes a blend of banana, figs, tahini, soya milk and cinnamon.
The handmade brick-oven where the whole meal flatbreads are reheated before being filled up with a wide range of hearty vegetarian selections.
Once my flats and smoothie was ready, I went to their upstairs dining area where a large communal table is made available to patrons in a garden-ish sort of environment (i.e. a quasi-retreat for the bustling Central district).
The flats were generously portioned and literally overflowing with the healthy ingredients I selected. Without the associated guilt-trip, the taste was superb given how healthy it was and left me feeling very satisfied.
The popular Babylon shake is almost a meal in itself and comprises of a mixture of banana, figs, tahini, soya milk and cinnamon.
As for the atmosphere of the cafe, to compliment it's "green food" offering, the space itself is designed to be environmentally conscious. Free water, energy saving lights, water-saving toilets, reclaimed furniture and paper straws (note: drink your juices fast or else the straw becomes soggy!). It gets packed at lunchtime, so is not a place to linger or engage in quiet tete-a-tetes but nonetheless, it has a great cosy and homely vibe to it.
All in all, if you are into the whole organic, vegan, raw food and gluten-free movement, then look no further than MANA! Fast Slow Food. After giving it a try, you will see why the slow food movement is catching on to Hong Kong urbanities.
MANA! Fast Slow Food
Address: 92 Wellington Street, Central.
Telephone: 2851 1611
Opening Hours: 10am-10pn everyday. No reservations.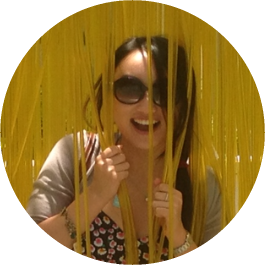 Michelle Tang |
Contributing Editor
Not your most conventional girl. A creative spirit with a zest for adventure, yoga, and food. With a degree in Finance and Law, Michelle was raised in Sydney. Passionate about cooking, writing, food styling and photography, Michelle writes a recipe blog and hosts supper clubs and cooking workshops for groups, private parties, and corporate.