Housed behind the famed Blue House heritage building in Wan Chai, Maureen is a narrow restaurant with tall stools lined up against the bar.
What makes Maureen so special is the extensive use of the sous vide style of cooking and her signature lo mein noodles. Believe me, they are like no other in Hong Kong. Previously, Maureen sold soup noodles but recently made the switch to a lo mein style of noodle (i.e. a dry style sort of noodle where there is no broth).
We spoke to Maureen who served us and explained her cooking philosophy behind her intricate dishes. Maureen takes pride in cooking her dishes with a sous vide. Ingredients are carefully slow-cooked in a vacuum-sealed pouch in temperature controlled water to extract and lock-in the most intense and organic flavors.
The lunch menu is concise, with a 3-course option for $108. Upon Maureen's recommendation, I chose the Perfect Egg as a starter, the sous vide salmon as a main, and me being me, I fancied some 'green' so elected for the spinach lo mein as the finale to the meal.
The cherry tomatoes makes for a perfect side dish to whet the appetite. A delicate and refreshing fun starter with hints of sweet balsamic, shallot and tomato.
As an extra side to start, I ordered the peeled cherry tomatoes ($38) hoping to whet the appetite. Oh boy, the taste was phenomenal. Maureen explained to me that she had to unpeel and marinade the tomatoes for hours on end in a delicately balanced mixture of soy sauce, garlic, shallots and sweetened balsamic vinegar.
The Perfect Egg – cooked at 63°C, this is the best temperature for poached and soft-boiled eggs.
Next up was the 'perfect' egg, Cooked at 63°C, the egg was nicely cooked but it was not the best I've had (yes, I've been spoiled). The mushroom fluid gel was light in texture and flavour as was the egg.
Sous Vide Salmon, Canto style – since the salmon is cooked in its own juices, its natural flavor – along with the ginger and scallions – is intensified.
The sous vide salmon was definitely the standout. Possibly one of the most tender and juicy cooked salmons I've tasted in Hong Kong thus far. The slow cooked ginger and scallion salmon arrived on a bed of Chinese kale and a soy sauce base. The sous vide style of cooking ensured the ginger and scallion juices were retained in the salmon. Really loved this dish and will come back to Maureen for this dish alone.
The spinach lo mein was a true standout. Deliciously eggy ribbons with a slight al dente resistance to each bite.
I finished my pleasant meal with a bowl of hot spinach lo mein. Taking a first bite – or should I say 'chew' – of the eggy spinach noodles, I can immediately say they deliver both on bite and bounce. I've never had such al dente Chinese style lo mein in Hong Kong.
Service was attentive and Maureen was very friendly. For food this unique and affordable, I'll definitely be making a second trip here again albeit next time it will be for dinner.
Maureen Hong Kong
Address: G/F, 11 Hing Wan Street, Wan Chai.
Opening Hours: Monday-Friday: 11am – 10pm; Sat-Sun: 11:30am – 10pm.
Order online here.
Follow the map below for direction: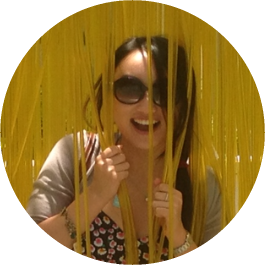 Michelle Tang |
Contributing Editor
Not your most conventional girl. A creative spirit with a zest for adventure, yoga, and food. With a degree in Finance and Law, Michelle was raised in Sydney. Passionate about cooking, writing, food styling and photography, Michelle writes a recipe blog and hosts supper clubs and cooking workshops for groups, private parties, and corporate.