Monogamous Chinese – Celebrating the Fidelity of the ingredients and traditions of Sichuan and Pekingnese Cuisine.
The Monogamous Chinese serves both Sichuan and Peking cuisine with genuine imported ingredients from the provinces
It is rare to have two different cuisines hailing from very different parts of China under the one roof. Nonetheless, nestled under the SoHo escalators, you will find Monogamous Chinese, a restaurant that touts itself as being loyal to Sichuan and Peking cuisine.
The name may raise eyebrows, which begs the question – why the peculiar name? The short answer is that the name was chosen to convey the fidelity of the elements that are brought together to create outstanding cuisine and ambience. Interestingly enough, there is also a reference to the first perpetually monogamous Chinese Emperor, Ming Dynasty Emperor Hongzhi, that imparts his sense of romance and marital devotion to his Empress (a rarity indeed!). This translates into the kitchen, with the chefs staying true to their fidelity of the ingredients and traditions of the dishes, marrying this with their own experiences in preparing excellent contemporary cuisine for modern diners. All sauces and spices are prepared in-house from the best seasonal produce under the direction of Chef Shizh Hoi Ping.
As for the decor and ambience, the first adjectives that come to my mind would be 'funky' or 'kitsch' depending on your point of view. A lot of paintings and oriental touches hang from its aquamarine walls. These might intrigue expats, while locals might cringe at the over-the-top "Asianizing".

Bamboo steamed vegetable dumplings
Now to the food. We ordered a selection to share. I'm a big fan of steamed vegetable dumplings ($68) and believe they are a good way to start and balance out a meat-heavy Chinese meal. They arrived in a bamboo steamer, set of four. Filled with an assorted mixture of chopped vegetables, these were delicious and made the grade for me.

The signature crispy pork spare ribs in house black vinegar sauce
Next came their signature crispy pork spare ribs stir-fried in black vinegar sauce ($148). Cooked in a combination of black vinegar and sugar, these were simply addictive and packed a punch.

Sichuan-style green beans with minced pork and chili
In contrast to crisp haricot verts or mushy microwaved dinner-style beans, Sichuan-style green beans are blistered and well-cooked without being bland. With Sichuan peppercorns and chillis adding spice and smokiness to the flavor profile, this dish was positively addictive.

水煮鱼 ('Shui Zhu Yu') is one of the most common Sichuan fish dishes.
Another spot-on, staff-approved item was the poached fish fillets in hot chili oil. Despite how 'hot' it looks, a lot of spicy heat actually doesn't linger on the fish – thankfully.

黄金炒虾,deep-fried prawns with salty egg yolk, was definitely the star of the evening. Finger licking good!
The highlight of the night was the deep fried prawns with salty egg yolk. In Chinese, 黄金炒虾, means stir-fry prawns with 'gold'. Chinese always likes symbolical things or words relating to gold, wealth, happiness, and good luck. Though I am usually not a fan of deep-fried food, this dish was simply divine. Prawns were firm and deep-fried till crispy golden.

但但面 is one of the most popular street foods in Sichuan. Savory, spicy, and nutty – who can possibly say "no".
Our carb dish was the dan dan mian. A beloved dish of China's Sichuan province, the noodles were firm in texture and the pork sauce was not too spicy but rich in peanut aroma. Did you know that dan dan noodles were originally sold by street vendors who carried their ingredients and stoves in baskets hanging from a dan (bamboo shoulder pole)? They would sell a portion of noodles and ladle over each ingredient in the sauce separately, which would then by mixed by the customer.

If you are going to order a dessert, the ice-cream soufflé balls is a must try.
Apart from  the deep-fried prawns in salty egg yolk, dessert was definitely the highlight of the entire meal. A wave of nostalgia over swept me as the deep-fried ice-cream in an egg white batter brought me back reminiscing to my childhood days in Sydney where I would happily order this dessert in the westernised chinese restaurants.
In short, Monogamous Chinese delivers on food, serving westernised Chinese cuisine with plenty of variety to cater for different palates. An ideal choice to bring foreigners and acquaint them to Asian-style cuisine.
Address: 59 Caine Road Soho, Hong Kong
Telephone: 2523 2872
Opening Hours: Mon-Fri 12-3pm, 6-9p11pm ; Sun & Sat 12pm-12am
Click here to order online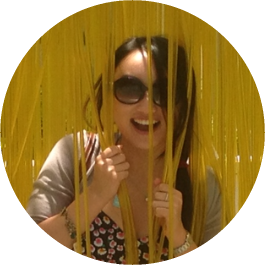 Michelle Tang |
Contributing Editor
Not your most conventional girl. A creative spirit with a zest for adventure, yoga, and food. With a degree in Finance and Law, Michelle was raised in Sydney. Passionate about cooking, writing, food styling and photography, Michelle writes a recipe blog and hosts supper clubs and cooking workshops for groups, private parties, and corporate.