Piccolo is Les Amis group latest venture and with the opening of more locations, it is fast becoming one of Hong Kong's most well regarded pizza and pasta choices.
A casual setting with laid-back furniture, warm lighting and tiled floors.
Positioning itself as a "neighbourhood eatery" with laid-back furniture and warm lights and tiled floors, the Piccolo Pizzeria & Bar Kennedy Town is a fun place for people of all ages.
The menu does not try too hard with too many dishes or anything overly fancy. Seems like the core staples revolve around Lazio-style thin crust pizzas and pastas only, with the addition of a few sides and desserts to choose from.
You can't go wrong with ordering the Parma ham and melon to start.
Insalata Caprese ¬– the colors are meant to resemble the Italian flag.
I started off with two starters: the parma ham and melon, as well as the caprese salad (yes, I am a mozzarella fan). The parma ham and rock melon were of superior quality and the dish came well presented with six generous wedges of freshly cut rock melon layered with a few slices of parma ham. As for the caprese salad, the mozzarella was simply placed over a small dish of halved cherry tomatoes and drizzled with aged balsamic and olive oil.
The Hawaiian – my childhood favorite.
I was able to sample two 11-inch pizzas: one was one of their best selling Pizza Parma with Parma Ham and melted mozzarella, and the other was my childhood favourite, the Hawaiian (i.e. ham and pineapple). Both were excellent. Pizza bases were crispy and thin and the cheeses melted and bubble to perfection.
Proscuitto di parma – a healthy dose of arugula, parmesan shavings and generous slices of parma over a refreshing tomato-sauce base made for an explosion of characters.
Cognisant of my waistline, I refrained myself from eating too much pizza and shifted on to dessert.
Tiramisu – you simply can't go wrong with the coffee, cream and booze formula
For the sweet finale, I always order the classic tiramisu in any Italian joint, believing it to the coolest trifle in the world. For $60, the tiramisu arrived in a clear tumbler. The sponge was not soggy enough for my liking and I've had creamier mascarpone but overall, it was decent enough for a casual meal (I still managed to finish it all after all). Complement that with a steaming hot cup of cappuccino, and I'm happily satiated.
After my hearty meal, I can see why Piccolo Pizzeria has been able to open a fourth branch. With reasonable prices (around $120-180 for mains) and a casual, laid-back atmosphere, Piccolo has well positioned itself as a neighbourhood eatery with quality pizza and pasta at affordable prices.
Piccolo Pizzeria & Bar
Address: Shop 1E, Davis Street, Kennedy Town, Western District, Hong Kong
Opening Hours: Mon-Sun 12-11pm.
Order online from any of the branches: Tai Hang or Kennedy Town.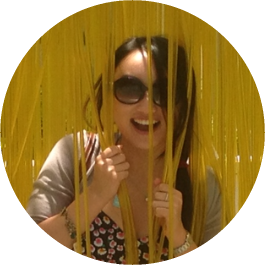 Michelle Tang |
Contributing Editor
Not your most conventional girl. A creative spirit with a zest for adventure, yoga, and food. With a degree in Finance and Law, Michelle was raised in Sydney. Passionate about cooking, writing, food styling and photography, Michelle writes a recipe blog and hosts supper clubs and cooking workshops for groups, private parties, and corporate.