Seoul Bros is a trendy Korean fast food joint that delivers on great quality food, honest ingredients, and fair prices. Also known as Seoul Brothers, this Korean joint merges old school cool with what's hip and trendy now.
The menu is concise at Seoul Bros – just a handful of dishes.
Came here starving on a late Friday afternoon as I was so consumed with errands and meetings all morning that I haven't found time to eat lunch. Perfect way to satiate my hunger was to stumble upon Seoul Brothers, a recently opened fast food and hip Korean joint along Hollywood Road.
Upon first glance of the menu of Seoul Bros, I noticed that most items hover around the $50 ballpark mark with nothing over $100. I ordered Set Menu B which includes The Chicken, Seoul Brothers Bibimbap, and a soda of your choosing. The fried chicken comes in two flavors: sweet and sour, or sweet and spicy.
As someone who can't tolerate too much 'heat' and who loves pretty much anything sweet and sour, it was a no brainer for me to opt for the sweet and sour option. Served in a small container, the battered chicken is smothered in a tangy, sugary sauce, and garnished with freshly choppy spring onions and sesame.
Possibly the best fried chicken I've encountered in Hong Kong to date.
When it comes to frying chicken, no one does it better than the Koreans. Korean fried chicken differs vastly from American-style fried chicken. Rather than the craggly, crusty, significant coating you'd get in the American style, the Koreans have mastered an eggshell-thin, ultra-crisp crust around a drippingly juicy interior.
Upon my first bite of the fried chicken, I was already convinced that Seoul Bros does one of the best – if not the best – crispy fried chicken in town. In fact, I'm beginning to salivate at the very thought of it. Thankfully, I don't live next door to Seoul Brothers or else my waistline will be constantly threatened.
Beef bibimbap at Seoul Bros.
Next up was the bibimbap. Maybe I've been spoilt with the dolsot bibimbap served in the sizzling stone hotpots but the Seoul Brothers bibimbap lacked the crispy crust, the assortment of vegetables, and the topping of the raw egg that usually comes in bibimbaps I'm used to in Korean restaurants.
Nor was the beef of high quality. The only saving grace was that at $78 for two dishes plus a drink, the price they were charging was indeed very low for Central. As such, I guess they can skimp on the ingredients as most bibimbaps out there are over the $100 price point (after all, it is meant to be a casual takeaway fast food joint).
Banana soft serve at Seoul Bros- a staple of the Korean culture.
To end the meal, I ordered a bowl of soft serve banana ice cream ($25), a favorite amongst South Korean children and a staple of the Korean culture. Interesting take on the traditional soft serve, the banana flavor was subtle. I still, however, prefer a good quality vanilla soft serve.
Something about banana-flavored ice cream doesn't quite resonate well with me.
All in all, for the quality and portions of food and Central location, the prices at Seoul Brothers are nearly unbelievable. Simply put, I would revisit again solely for the fried chicken.
Seoul Bros
Address: UG/F, 66 Hollywood Road, Central, Hong Kong.
Opening Hours: Mon-Thu 12-10pm, Fri-Sat 12pm-12am, Sun 1-9pm
See map below for direction: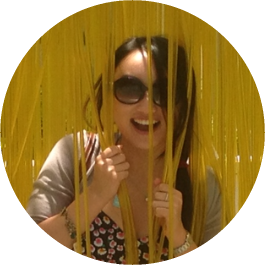 Michelle Tang |
Contributing Editor
Not your most conventional girl. A creative spirit with a zest for adventure, yoga, and food. With a degree in Finance and Law, Michelle was raised in Sydney. Passionate about cooking, writing, food styling and photography, Michelle writes a recipe blog and hosts supper clubs and cooking workshops for groups, private parties, and corporate.