I love the vibe at Wagyu. The polished wooden floors, white linen table clothes and cushioned chairs render a very warm and comfortable feeling designed to put one at ease after a long day at work.
With a laid-back and comfortable atmosphere, Wagyu offers all-day street side casual dining with attentive service every day of the week.
While the menu is largely centered on the Australian Wagyu steak – famous for its marbling and tenderness – the menu extends beyond standard Australian cuisine with plenty of other modern contemporary dishes to select from. Taking one quick glance at the menu, I can see the chef draws his menu inspirations from Asia, the Middle East, and the Mediterranean.
I'm a huge burrata fan. Over the weekend, I actually wanted to recreate a signature burrata dish from one of my favorite restaurants in London. Much to my chagrin though, I could not find good quality burrata in Hong Kong (so had to make do with buffalo mozzarella – sigh). As such, seeing it feature on the Wagyu menu made me all giddy inside and it became a total 'no-brainer' to me as to what to order as a starter.
At first glance, burrata may look like a fresh ball of mozzarella. It is important to note that while the solid outer curd of burrata is made from mozzarella, burrata is not mozzarella cheese. Burrata is its own, very special type of cheese. The real charm of burrata – that is, what sets it apart (besides the higher price tag) from mozzarella – is what's on the inside: soft, stringy curd and fresh cream. It should have a milky, buttery flavor that's rich without being too indulgent. The burrata at Wagyu is decent and the imported heirloom tomatoes have retained their freshness and are full of flavor. I particularly like how they complemented the salad with a balsamic pesto dressing (I love basil and balsamic!).
Burrata and Heirloom Tomato Salad marinated in balsamic pesto, with rocket, drizzled with extra virgin olive oil.
To ensure I got my daily intake of enough greens, I also ordered a wagyu beef cobb salad with balsamic dressing (they give you an option of dressings to choose from: vinaigrette, balsamic, or blue cheese). The beef was of decent quality (though I do prefer it to be cooked medium-rare). Avocado was lush and smooth in texture and the greens were fresh.
Wagyu beef strip salad with boiled egg, lush avocado, crispy bacon, herb croutons over a bed of baby spinach, tossed in your choice of dressing.
For the mains, we opted for a crispy skinned salmon and a US Certified Black Angus Sirloin.
In all honesty, the salmon was bit overdone for my liking, but serving size was decent and skin was crisp. It came paired with a side of vegetable quinoa and a sprinkle of pomegranate seeds accompanied with a dollop of Greek yoghurt.
Crispy skinned salmon on vegetable quinoa, with baby asparagus and pomegranate.
As for the steak, we asked for the sirloin to be cooked medium-rare. All steaks come with a whole roast garlic, rocket salad and one choice of a side dish from a wide selection ranging from honey sesame carrots, creamed spinach, garlic mushrooms, potato au gratin, etc.
US Certified Prime Black Angus Sirloin, perfectly grilled to your liking.
The steak arrived with beautiful crisscrossed char-grilled marks. When sliced, it was still pinkish inside and not overdone. The lightly dressed rocket salad with sundried tomatoes perfectly complemented the steak as a side and the mushroom sides delivered powerfully on the garlic flavor.
Garlic Mushrooms – a delicious side dish to balance out a heavy protein-laden meal.
All the protein pretty much satiated our stomachs but who can say no to dessert? There were a handful of desserts to choose from but we opted for the apple crumble. While everyone has their own idea of the prefect crumble, mine consists of sharp, mushy Bramley, equal amounts of crumble and fruit and a topping comprised of oats, demerara sugar and ground almonds. Serve it with a scoop of high-grade vanilla bean ice-cream and I am in love.
The apple crumble took approximately 20 minutes to arrive. Interestingly enough, the apple crumble at Wagyu consisted of combining peaches with the apples inside. Personally, I am not a fan of baked mushy peaches inside an apple crumble but each to their own. The top was dowsed with crumble and a large scoop of vanilla ice-cream, topped with a sliced strawberry and a drizzle of strawberry sauce (I prefer it without syrup). Not a bad way to end a Tuesday night.
Apple crumble with vanilla ice-cream: how to end the night on a sugar high.
Open for all-day dining, Wagyu is not only a casual dining restaurant, it is also a popular watering hole and hotspot for happy hour and weekend chilling.
Thanks to Foodpanda, Wagyu also offers home and office catering and delivery service. Order if you are looking for a range of some decent quality dishes in sizable portions.
WAGYU
Address: The Centrium, 60 Wyndam Street
Phone: 2525 8805
Opening hours: Everyday, 8am to 12am.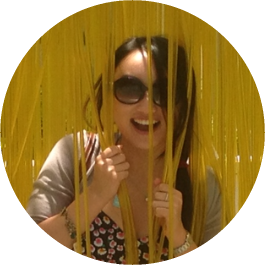 Michelle Tang |
Contributing Editor
Not your most conventional girl. A creative spirit with a zest for adventure, yoga, and food. With a degree in Finance and Law, Michelle was raised in Sydney. Passionate about cooking, writing, food styling and photography, Michelle writes a recipe blog and hosts supper clubs and cooking workshops for groups, private parties, and corporate.