Having just finished a meeting and about to hop onto another in Central, I was time-pressed to find something to grab-to-go to satiate my hunger and quell my growling stomach.
Strolling along Stanley Street, I came across Wasabi Warriors and spotted an 'afternoon tea' special for $48.
Craving something "saucy", I ordered the grilled egg hot box and a salmon avocado roll, reminiscence of my school days in Sydney when I would buy these jumbo sushi rolls at the station after school.
They claim that all items from the menu are made fresh daily on the premises, from high quality single origin, locally sourced produce. It is their belief to support local farmers to ensure the sustainability and growth of the local food industry. Moreover, Wasabi Warriors claims it generates almost zero food waste as any items not sold on the day will go directly to charity or to compost as fertilizer.
Still hungry, I was tempted to select from their variety of large sushi rolls. Just to give you a rough indication of the variety they have, you will find cooked tuna and avocado with mayonnaise, tuna with lettuce and cucumber, teriyaki chicken and lettuce with mayonnaise, soft shell crab and lettuce with mayonnaise, salmon with avocado, tuna with avocado – and the list goes on.
I ordered my favorite, the salmon and avocado roll – the most classic pairing. Thankfully, the texture and quality of the salmon was fresh.
Curious about the quality of the tuna, I also ordered the tuna sashimi (which came in five slices). For the price you pay, the tuna was of decent caliber. Not a bad low-carb option for those who are carb conscious.
As plastered on their wall, Wasabi Warriors overriding goal is to "Eat Good", "Do Good" and "Feel Good". All items on their menu are made freshly on the premises each day, from premium single origin, locally sourced produce. They genuinely believe in supporting local farmers to ensure the sustainability and growth of the local food industry. Any items not sold on the day they send off to charity or to the compost as fertilizer. As such, Wasabi Warriors generates zero food waste.
Wasabi Warriors Hong Kong 
Address: Unit F, G.F, World Trust Tower, 50 Stanley Street, Central, Hong Kong.
Opening hours: Weekday 11am-7pm ; Sat 11am-5pm.
Facebook page: www.facebook.com/WasabiWarriorsHK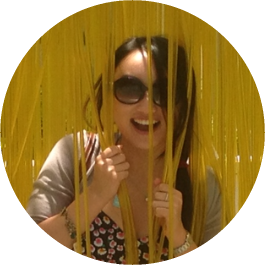 Michelle Tang |
Contributing Editor
Not your most conventional girl. A creative spirit with a zest for adventure, yoga, and food. With a degree in Finance and Law, Michelle was raised in Sydney. Passionate about cooking, writing, food styling and photography, Michelle writes a recipe blog and hosts supper clubs and cooking workshops for groups, private parties, and corporate.