Recently having visited Taipei for a brief weekend "escape" from urban Hong Kong, I was craving some authentic Taiwanese night market food again. Hearing good things about Yuan is Here, I decided to set foot and embark on the new MTR line to Sai Ying Pung to test this little Taiwanese eatery out. Walking in, the bright lights and signs made me feel as if I was transported back to the Taipei night markets I had visited just recently.
Small and cosy, be sure to get here early to secure a spot, particular in peak lunch hour times.
The menu is simple with classic Taiwanese snacks like braised pork rice, popcorn chicken, oyster pancake, and a variety of tea drinks. To start, I ordered the preserved egg dish as an entree ($35). Garnished with some chopped spring onions, the preserved egg arrived diced inside a small cup. On the very first spoonful, the preserved egg flavor was intense.
Preserved egg with chopped spring onions ($35)
Upon recommendations from others, I also ordered their signature fried chicken ($35). I know Korean fried chicken is all the rage these days but the fried chicken here is delicious. Lightly spiced with some Chinese five spice powder and battered thinly, the chicken was deep-fried to perfection without the meat tasting dry and losing its moisture.
Yuan's version of his own KFC – the deep-fried chicken is a must order ($35)
I moved on to try the Braised Pork Rice, highly recommended by their staff. I can see why this is their number one dish. The pork belly was flavourful but not too fatty. This was delicious to eat along with the sauce and pearl rice.
With a price tag of $29 only, the pork belly rice dish was flavoursome and the signature dish at Yuan is Here.
Another popular dish is the oyster pancake ($35). It arrived perfectly fried on a circular plate with a dollop of sauce. The pancake was a bit too oily and had too much of the "chewy" flour for my liking but nonetheless, my friend enjoyed it.
Last but not least, how can one visit a Taiwanese eatery without ordering the Pearl Tea? There were several flavours but I chose the original. The bubbles (starch balls let's say) were al dente in texture and complemented the delicate milk tea very well.
Original bubble milk tea ($20) – one of the better ones I've had in Hong Kong.
All in all, Taiwanese boss Ah Yuen has done a decent job. The restaurant is popular, and the food is cheap and delicious. If you are around the Sai Ying Pung neighborhood, definitely give this Taiwanese joint a try.
Yuan is Here
Address: 73 Third Street, Sai Ying Pun
Opening hours: Tue – Sun 11:00 – 22:00
Facebook page: facebook.com/yuanishere
Follow the map below for directions: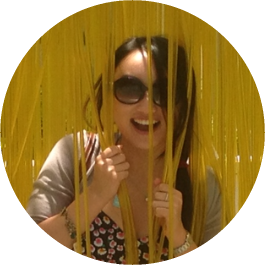 Michelle Tang |
Contributing Editor
Not your most conventional girl. A creative spirit with a zest for adventure, yoga, and food. With a degree in Finance and Law, Michelle was raised in Sydney. Passionate about cooking, writing, food styling and photography, Michelle writes a recipe blog and hosts supper clubs and cooking workshops for groups, private parties, and corporate.