Ding Dim 1968 – Enjoy Daily Handmade Dim Sum Without the usual MSG and Noisy Chatter!
With winter weather creeping in, I was craving for some warm satiating food like dim sum. Heard from friends that there was a new dim sum shop called Ding Dim 1968 nestled away in the SoHo area. Given the number of hours I sit at my desk, I could definitely do with a much-needed lunchtime stroll and a break away from the crowds concentrated in the heart of Central. As such, I decided to give this little outlet a try.
First, some background. As the name suggests, the master chef behind Ding Dim, Chan Si-fu – known as Master Black – has been crafting the art of dim sum making since 1968 when he was only 14 years old. Although he always remained anonymous, Master Black has been preparing dim sum for some of Hong Kong's most renowned Cantonese restaurants.
His nephew, Alex, thought it was about time his works of art were celebrated and people knew who was in the kitchen. Thus, Ding Dim 1968 was born, to showcase Master Black's delicately prepared dim sum.

In partnership with speedy delivery company Foodpanda (who else? ), Ding Dim 1968 caters for corporate parties and functions.
The small restaurant is understated, with red brick interiors and simple wooden tables and stools. There is no MSG in the food and dim sums are hand made daily.
We arrived early to be ensured a spot for two without having to queue. Taking a quick glance at the menu, there are plenty of vegetarian options as well as tasting menus for those who are undecided as to what to select.

Lo Mai Gai – Steamed glutinous rice with chicken
The texture of the glutinous rice in the "Lo Mai Gai" (steamed glutinous rice with chicken) was perfect and there was enough chicken inside to balance out the egg yolk.

Har Gow (shrimp dumpling) is one of the most famous dim sum dishes and a must order
The thickness of the dough was just right, and enough wheat flour was used to give the dumpling the right amount of transparency.
Traditional dishes such as the sticky rice with chicken wrapped in padanus leaf were excellent, while the har gow (prawn dumplings) were amongst the best I've ever had. Skin was just the right thickness and prawns perfectly cooked.

Ding Dim's Dace fish stuffed chilli
The Dace fish stuffed chilli peppers was more of an unusual dish I did not expect to see on the menu. It came in a set of three with a light drizzle of soy sauce. The minced dace fish paste was fresh and pan-fried with the chilli peppers.

Did someone say xiao long bao with black truffle? This is taking dim sum to a new gourmet level. A must try to all those xiao long bao aficionados.
The xiao long bao – everyone's favourite – was served with either crabmeat or black truffle. I decided to go premium and try the one with black truffle. It came in a set of three, presented on individual Chinese spoons and toppled with a dollop of minced black truffle. The broth was super hour – as it should be – and had a wonderful hint of comforting ginger. Skin was neither too thick nor too thin. Just so delicate and oh-so-perfect.

While I am more of a proponent of the fluffy white steamed BBQ pork style buns, these sugary crusted baked BBQ style pork buns were delicately crafted and baked to perfection.
I am more of a fan of the white fluffy steamed Chinese BBQ style pork buns. Unfortunately, Ding Dim only offered the baked kind with the sugary topping (*gasp* got to watch those extra calories!). Since this was one of their signatures, I decided to be more open-minded and give it a try. Like the rest of the dim sum dishes, they also arrived in a set of three and were baked to perfection with a crispy, sugary top and sweet, sticky filling.

Another must order besides the Har Gow is the steamed spareribs with black bean sauce. Pork was tender and not too fatty nor salty.
Another typically ordered dim sum dish among the locals is the steamed spareribs with black bean sauce. The quality of the pork was good, and the level of saltiness was just right. In fact, this dish was so tasty that I could eat the entire plate on my own.
Range of Dishes at Ding Dim
Dishes at Ding Dim range from $15 to $90, with the more expensive ones owing to the addition of black truffle. Located on Elgin Street, sometimes it is worth finding these little gems away from the traditionally busy and noisy cantonese style dim sum restaurants. The staff are attentive and clearly passionate about what they do, thereby making your overall dim sum experience far more enjoyable. A personal tip: if you don't want to queue up, arrive before 12:30pm on weekdays.
Address: Shop A, 14D Elgin Street, Central
Phone: 9698 1968
Click here to order online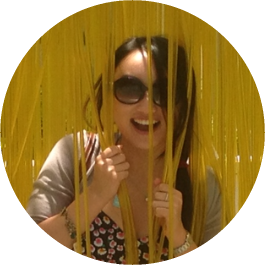 Michelle Tang |
Contributing Editor
Not your most conventional girl. A creative spirit with a zest for adventure, yoga, and food. With a degree in Finance and Law, Michelle was raised in Sydney. Passionate about cooking, writing, food styling and photography, Michelle writes a recipe blog and hosts supper clubs and cooking workshops for groups, private parties, and corporate.