If you are indecisive or your group cannot decide whether to opt for Indian or Thai food, then head over to Spice8 in The Metropolis Mall, Hung Hum – all your cravings will be solved. Spice 8 offers both authentic Indian and Thai cuisine served in a relaxed and contemporary atmosphere.
The menu selection is extensive and designed for sharing. Our first pick for the appetizer was the Soft Shell Crab Roll ($72). In addition to the softshell crab centerpiece, inside each meticulously wrapped roll you will find other ingredients such as cucumber, daikon sprouts, carrot and vermicelli.
If you fancy something 'hot' to tantalize your taste buds, then my suggestion is to succumb to the thai green curries Spice 8 has to offer. Personally, I cannot handle much heat but my friends remarked how well the green curry ($68) was executed (option for pork or chicken). For a less 'hotter' version, my advice is to opt for the red curry.

Caveat emptor – Thai pork green curry – only order this if you can handle the heat.
Now, how can I possibly go to an Indian restaurant without ordering my favorie dish, the Palak Paneer. For those who are unaware, the Palak Paneer originated in the Punjabi region and is simply a spinach curry with sautéed paneer and seasoned with garlic, garam masala, and a host of other spices.
Traditionally, Indian paneer is a fresh, simple cheese made out of simmering whole milk with an acid (such as lemon juice) or curd added a little at a time until the curds separate from the whey. The mixture is then cooled, strained through cheesecloth and pressed with a weight to remove excess moisture. This paneer, when cooked with the greens, gives the dish a wholesome flavour.

Palak Paneer – delicate natural flavours enhanced by the subtle use of spices and seasonings.
Now, to mop up all the goodness of the curry sauces, you are going to need some Naan bread. There were plenty of options to choose from. We selected the basic Naan ($26), and me being the curious individual as I am, was keen to try the Kashmiri Naan ($36). Kashmiri naan is simply a sweet naan filled with a mixture of nuts and raisins. This one was particularly sweet (yes, I could taste the sugar) and to be frank, the bright orange color kind of vexed me a little.
Kashimiri Naan is nutty and tasty, liked for breakfasts and served best in tea parties.
Now, for the protein. Chicken tikka it was ($80). One of Britain's favourite comfort foods, chicken tikka is often made my marinading the meat in yoghurt to tenderize it, then adding a host of spices to the mix such as garlic, ginger, turmeric, garam masala, coriander and cumin. The portion here was generous and the meat was indeed really tender and packed with a punchful of Indian flavours.

Chicken tikka – tender and succulent pieces of chicken meat served on a hotplate
As for the ambience of Spice 8, do not expect anything formal or fancy. The restaurant is situated inside a mall with 'outdoor' seating (for people watching). With the option to bring your own wine, Spice 8 makes for a great casual place to hang out with friends in Hung Hum.


Spice 8
Address: Shop 749-750, 7/F. Fortune Metropolis, 6-10 Metropolis Drive, Hung Hom
Opening hours: Mon-Sun 12-3pm, 6-10pm
Delivery here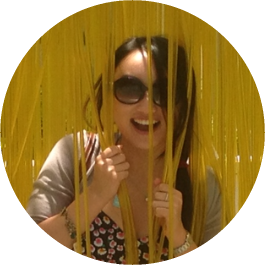 Michelle Tang |
Contributing Editor
Not your most conventional girl. A creative spirit with a zest for adventure, yoga, and food. With a degree in Finance and Law, Michelle was raised in Sydney. Passionate about cooking, writing, food styling and photography, Michelle writes a recipe blog and hosts supper clubs and cooking workshops for groups, private parties, and corporate. Visit Michelle's Facebook page here. Welcome Kitchenmess!